notice
Announcement
2010 MU Online Update Plans(Season5, Gold Channel)
3/22/2010
2010 MU Online Update Plans
(Season5, Multi Language Client and Gold Channel)
Greetings,
It's been almost a year since the opening of MU Online at Webzen. We cannot thank you enough for your support for MU Online.

MU Online would like to take this chance to lay out the plans for MU Online this year whereby we hope to reciprocate your passion.

1.MU Online Season 5 Update in first half year!
<Season 5 Massive Content Update>
-New Quest System for Beginners
-More Event Maps (Varka and Double Goer)
-New Set Items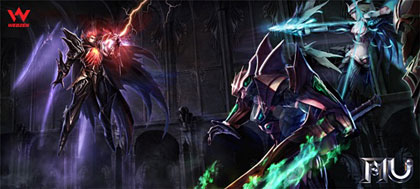 Q. Is it the same version with Korean MU Online?
A. Yes. No more waiting for content update. Furthermore, Season 6 and 7 will be updated almost at the same time as Korea.
2.Multi Language Client coming up!
<More Language Options for Global Mutizen>
Yes you read it right! We are preparing Portuguese and Spanish for the moment and with coming time Polish and German will be updated.
Portuguese and Spanish are planned to be available in second-half year and everything-Quests ,Items, Skills and etc- will be translated.
Q. Do we need to download separate client or choose a separate server to play then?
A. No. It will be available as a one client with multi language options.
3.Item Shop Mega Renewal
<Not an Upgrade-an Upheaval>
User interface will be greatly improved and more description will be added to the shop.
We expect Item shop to be available both in game and on website.
4.Who is the strongest of the strongest?
Ranking Page Opening in first half of 2010
<Rank Your Name #1!>
Who's leveled up the most? Who is the best PvP player?
Ranking page is soon to be opened. Challenge yourself to become the number 1!

5.Official Gold Channel Opening in first half 2010
Due to popular demand, we have decided to extend Gold Channel service. Originally planned for 5 weeks, now it has become official service.
We promise to deliver more events and the current event will be extended for one more week!
Gold Channel Event Period
Before : till March 31, 2010
After: till April 7,2010
The price for official gold channel will be announced soon via Notice Board.
We are planning on bring more service and updates besides to above this year.

Thank you everyone and we will put our best efforts not only to meet your expectation, but also to bring more pleasant surprises!
Many thanks again!
MU SupportTeam