5th Grade Mastery Armor Item Update
1. 5th Grade Mastery Armor Frost Blueye Set Item Update
1) Frost Blueye Set ARmor Item Information
Armor Distinction

Class

Helm

Armor

Pants

Gloves

Boots

Black Knight

○

○

○

○

○

Warlock

○

○

○

○

○

Fairy

○

○

○

○

○

Summoner

○

○

○

○

○

Spellsword

 

○

○

○

○

Dark Lord

○

○

○

○

○

Rage Fighter

○

○

○




○

Mirage Lancer

○

○

○

○

○
2) Frost Blueye Set Upgrade New Combination Material - Frost spirit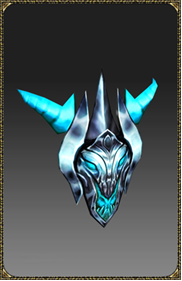 The Frost Spirit is a new combination material that is used to upgrade soul set items.

The Frost Spirit can be bought for 50,000 Ruud from NPC James in Elberand.
3) Frost Blueye Set Crafting Specifications
The Frost Blueye set items can be upgraded by combined with a +11/16-option soul armor item.

Even when an item is upgraded to a Frost Blueye set item is upgraded, its class requirements, type, luck option, and all stats option remain unchanged.
[Frost Blueye Set Armor - Combination Setting]
Base Material

Mastery Combination Material

Jewel Material

Success Rate

Combination Result

+11 Level/16-Option

Soul of Awakening

Set Armor

Frost Spirit

30 Jewels of Blessings

30 Jewels of Soul

1 Jewel of Chaos

1 Jewel of Creation

100%

+0 Level/0-Option

Frost Blueye

Set Armor
2) Mastery Set Item New Option Added
-5th grade mastery armor set items can have new item options.
(1) Mastery Set Option
Increase Mastery Maximum HP

Increase Mastery Skill Attack Power

Increase Mastery Strength

Increase Mastery Dexterity

Increase Mastery Energy

Increase Mastery All Stats

The effect of mastery options increase as the item's enchant level increases.

The effect of mastery options may vary depending on the class requirement and type of the item.
5th Mastery Set Armor

Dragon Knight (Black Night)
Frost Blueye Knight Set

Requirement - At least level 1,000

Distinction

Knight Helm

Knight Armor

Knight Pants

Knight Boots

Required Strength

781

933

844

739

Required Dexterity

240

287

256

224

Defense

292

315

305

291

Set Option

2Set

3Set

4Set

Increase Mastery Skill Attack

Increase Mastery Strength

Double Damage Chance +18%

Increase Mastery Attack

Increase Mastery Critical Damage

Increase Mastery Excellent Damage

Armor Penetration +9%%

Increase Mastery All Stats

Increase Mastery Base Defense

Critical Damage Chance +20%

Excellent Damage Chance +20%

Triple Damage +4%

Increase Mastery Maximum HP















Soul Wizard (Warlock)
Frost Blueye Wizard Set

Requirement - At least level 1,000

Distinction

Wizard Helm

Wizard Armor

Wizard Pants

Wizard Gloves

Required Strength

240

261

251

193

Required Dexterity

93

98

83

77

Defense

271

280

277

266

Set Option

2Set

3Set

4Set

Increase Mastery Skill Attack

Increase Mastery Energy

Double Damage Chance +18%

Increase Mastery Spellpower

Increase Mastery Critical Damage

Increase Mastery Excellent Damage

Armor Penetration +9%

Increase Mastery All Stats

Increase Mastery Base Defense

Critical Damage Chance +20%

Excellent Damage Chance +20%

Triple Damage +4%

Increase Mastery Maximum HP















Noble Elf

Offensive fairy (folk song)
Frost Blueye Elf Set

Requirement - At least level 1,000

Distinction

Elven Helm

Elven Armor

Elven Pants

Elven Gloves

Required Strength

198

224

209

182

Required Dexterity

413

476

440

377

Defense

286

293

289

278

Set Option

2Set

3Set

4Set

Increase Mastery Skill Attack

Increase Mastery Dexterity

Double Damage Chance +18%

Increase Mastery Attack

Increase Mastery Critical Damage

Increase Mastery Excellent Damage

Armor Penetration +9%

Increase Mastery All Stats

Increase Mastery Base Defense

Critical Damage Chance +20%

Excellent Damage Chance +20%

Triple Damage +4%

Increase Mastery Maximum HP















Support Type Fairy (Enyo)
Frost Blueye Elf Set

Requirement - At least level 1,000

Distinction

Elven Helm

Elven Armor

Elven Pants

Elven Gloves

Required Strength

83

93

88

83

Required Dexterity

161

167

161

151

Required Energy

1063

1098

1070

1056

Defense

204

212

205

194

Set Option

2Set

3Set

4Set

Increase Mastery Energy

Defense Boost +51%

Attack Boost +51%

Defense +45% when a shield is equipped

Bless +65

Defense +270

Maximum HP +550

Increase Mastery All Stats

Increase Mastery Base Defense

Increase Mastery Maximum HP















Magic Knight (Spellsword)

Physical offensive spellsword (mounted)
Frost Blueye Magic Set

Requirement - At least level 1,000

Distinction

Magic Armor

Magic Pants

Magic Gloves

Magic Boots

Required Strength

770

734

623

671

Required Dexterity

324

314

266

282

Defense

314

290

283

289

Set Option

2Set

3Set

4Set

Increase Mastery Skill Attack

Increase Mastery Strength

Double Damage Chance +18%

Increase Mastery Attack

Increase Mastery Critical Damage

Increase Mastery Excellent Damage

Armor Penetration +9%

Increase Mastery All Stats

Increase Mastery Base Defense

Critical Damage Chance +20%

Excellent Damage Chance +20%

Triple Damage +4%

Increase Mastery Maximum HP















Offensive spellcaster spellsword (caster)
Frost Blueye Magic Set

Requirement - At least level 1,000

Distinction

Magic Armor

Magic Pants

Magic Gloves

Magic Boots

Required Strength

203

193

177

182

Required Dexterity

188

177

161

167

Required Energy

1119

1091

1077

1056

Defense

310

285

280

284

Set Option

2Set

3Set

4Set

Increase Mastery Skill Attack

Increase Mastery Energy

Double Damage Chance +18%

Increase Mastery Spellpower

Increase Mastery Critical Damage

Increase Mastery Excellent Damage

Armor Penetration +9%

Increase Mastery All Stats

Increase Mastery Base Defense

Critical Damage Chance +20%

Excellent Damage Chance +20%

Triple Damage +4%

Increase Mastery Maximum HP















Empire Lord (Dark Lord)
Frost Blueye Lord Set

Requirement - At least level 1,000

Distinction

Lordly Helm

Lordly Armor

Lordly Pants

Lordly Gloves

Required Strength

329

361

340

282

Required Dexterity

98

109

104

88

Defense

269

290

277

266

Set Option

2Set

3Set

4Set

Increase Mastery Skill Attack

Increase Mastery Strength

Double Damage Chance +18%

Increase Mastery Attack

Increase Mastery Critical Damage

Increase Mastery Excellent Damage

Armor Penetration +9%

Increase Mastery All Stats

Increase Mastery Base Defense

Critical Damage Chance +20%

Excellent Damage Chance +20%

Triple Damage +4%

Increase Mastery Maximum HP















Dimension Summoner (Summoner)
Frost Blueye Summoner Set

Requirement - At least level 1,000

Distinction

Summoner Helm

Summoner Armor

Summoner Pants

Summoner Gloves

Required Strength

198

219

209

151

Required Dexterity

77

88

83

46

Defense

273

285

277

265

Set Option

2Set

3Set

4Set

Increase Mastery Skill Attack

Increase Mastery Energy

Double Damage Chance +18%

Increase Mastery Spellpower

Increase Mastery Critical Damage

Increase Mastery Excellent Damage

Armor Penetration +9%

Increase Mastery All Stats

Increase Mastery Base Defense

Critical Damage Chance +20%

Excellent Damage Chance +20%

Triple Damage +4%

Increase Mastery Maximum HP















Fist Blazer (Rage Fighter)
Frost Blueye Fighter Set

Requirement - At least level 1,000

Distinction

Fighter Helm

Fighter Armor

Fighter Pants

Fighter Boots

Required Strength

392

455

419

366

Required Dexterity

-

-

-

-

Defense

267

295

284

273

Set Option

2Set

3Set

4Set

Increase Mastery Skill Attack

Increase Mastery Strength

Double Damage Chance +18%

Increase Mastery Attack

Increase Mastery Critical Damage

Increase Mastery Excellent Damage

Armor Penetration +9%

Increase Mastery All Stats

Increase Mastery Base Defense

Critical Damage Chance +20%

Excellent Damage Chance +20%

Triple Damage +4%

Increase Mastery Maximum HP















Shining Lancer (Grow Lancer)
Frost Blueye Lancer Set

Requirement - At least level 1,000

Distinction

Lancer Helm

Lancer Armor

Lancer Pants

Lancer Gloves

Required Strength

340

361

350

298

Required Dexterity

340

361

350

298

Defense

263

274

271

264

Set Option

2Set

3Set

4Set

Increase Mastery Skill Attack

Increase Mastery Strength

Double Damage Chance +18%

Increase Mastery Attack

Increase Mastery Critical Damage

Increase Mastery Excellent Damage

Armor Penetration +9%

Increase Mastery All Stats

Increase Mastery Base Defense

Critical Damage Chance +20%

Excellent Damage Chance +20%

Triple Damage +4%

Increase Mastery Maximum HP