Who is NPC Moss the Gambler?
Moss is a mysterious merchant who gives out items randomly.With a small percentage of chances he will give you a rare item that never existed in the Continent of MU.
What is the story behind?
NPC Moss the Gambler has arrived in the Continent of MU after travelling to faraway lands.
Exotic items that he has collected throughout his voyage have become the center of attention among Mutizens. Never existed before, these items seem very powerful just by a glance.
Other merchants do not welcome Moss as his way of selling items, which is more like a gamble, do not respect the existing business manners.
Rare Item Description
Location: Elveland(22,225)
Store Items: Moss the Gamblers items can be sorted into 5 different categories as follows.
Every purchase an items type (Normal/Excellent/Rare), skill, luck and option will be given randomly.
A rare item will have 2-3 excellent options and when it's made an official announcement and fireworks will appear in the screen.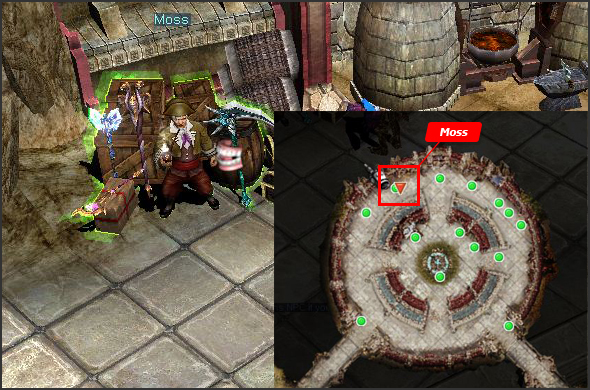 NPC Moss the Gambler Details
Excellent Brova
Item Category
Sword / Mace / Spear
Descriotion
Blade Knight / Magic Gladiator Two-Handed
Strength
804
Agi
149
Min. Attack
227
Max. Attack
263
Attack Speed
40
Skill
Cyclone Hit
Excellent Striker Scepter
Item Category
Staff
Descriotion
Dark Loard Pet Attack Power +43% One-Handed
Strength
468
Agi
123
Min. Attack
136
Max. Attack
148
Attack Speed
40
Skill
Force Wave
Excellent Aileen Bow
Item Category
Bow / Crossbow
Descriotion
Muse Elf Two-Handed
Strength
272
Agi
1186
Min. Attack
203
Max. Attack
227
Attack Speed
45
Skill
Multi Arrows
Excellent Chromatic Staff
Item Category
Stick
Descriotion
Soul Master / Magic Gladiator Masic Power +75
One-Handed
Strength
281
Agi
82
Min. Attack
69
Max. Attack
71
Attack Speed
30
Excellent Raven Stick
Item Category
Scepter
Descriotion
Bloody Summoner Magic Power +78
One-Handed
Strength
278
Agi
92
Min. Attack
86
Max. Attack
94
Attack Speed
30