The name 'Ruud' was derived from the God's name because it is refined by 'James,' one of the 12 apostles who received the power of MU continent's God, Lugard. This currency is used for purchasing blessed items.
It is known that Ruud can only be obtained by passing Lugard's test. Research is ongoing to find ways to earn Ruud in current MU continent. The only way known is to pass MU continent's test.
Gaining of Ruud
- Collect Ruud from 'Mastery Box' in various event maps of MU continent.
- Collect Ruud from the following event maps:



▶ Chaos Castle
▶ Blood Castle
▶ Devil Square
▶ Illusion Temple
▶ Doppelganger
▶ Empire Guardians : Varka
Description
- Ruud in Mastery Box can be automatically gained by right-clicking.
- Ruud is stored in the inventory (shortcut: I, V) just like the other currency, Zen.

< Inventory-Ruud >
Check your Ruud from the bottom of inventory just like Zen.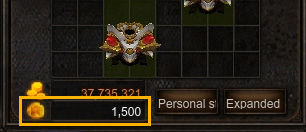 Use of Ruud
- Use Ruud via 'Priest James' (Ruud Shop NPC) for purchasing items.
- Ruud is bound to a character and cannot be neither discarded nor used in personal store, inventory, and trade.
- Ruud cannot be used in general stores and can only be used in Ruud shop.
Priest James (NPC)
- Use 'Ruud' on priest James to purchase items.
- You can purchase sealed mastery set item, which is the combination material for mastery set item.
- Priest James only sells items that fits the buyer's class.
(Cannot purchase items of other classes)
- Items purchased by priest James cannot be sold for Ruud;
it can be sold to general NPCs for Zen.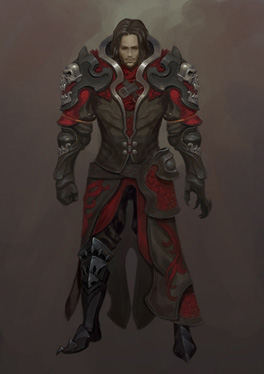 < Priest James Coordinates >
- Event Square (217.62)
- Elbeland Town (32.239)
James was originally working on a family business as a blacksmith with his brother, Hanzo. When 'Devil Secrarium' has awakened and started to threat Lugard and his MU continent, James left his main business and started working for Lugard.
After that, James was recognized for his skills as a blacksmith and received the power of Lugard as one of the '12 apostles of light.' The ability James received from Lugard enables him to give weapons and armors special powers.
He gives away his weapons and items to MU warriors who work for Lugard in opposition to the Devil Secrarium.
Use of Ruud Shop
- Characters can purchase items with their Ruud at the Ruud shop.
- Check the item's description by putting the cursor on the item's image.
- The description on the left side is about the sealed item, and the one on the right side tells the information when the item is unsealed.
< Ruud Shop UI >
- Priest James - Ruud Shop UI

▶ Use the purchase button to purchase the sealed mastery set items (combination materials) for each class.
▶ By clicking priest James, the Ruud shop will automatically detect the buyer's own class and open the shop window specialized for them.
Dark Knight
Bloodangel of Sealed Fury Set
Helm
Armor
Pants
Boots
Dark Wizard
Bloodangel of Sealed Transcendence Set
Helm
Armor
Pants
Gloves
Elf
Bloodangel of Sealed Flurry Set
Helm
Armor
Pants
Gloves
Magic Gladiator
Bloodangel of Sealed Extremity Set
Helm
Pants
Gloves
Boots
Dark Lord
Bloodangel of Sealed Conquest Set
Helm
Armor
Pants
Gloves
Summoner
Bloodangel of Sealed Honor Set
Helm
Armor
Pants
Gloves
Rage Fighter
Bloodangel of Sealed Destruction Set
Helm
Armor
Pants
Boots
Grow Lancer
Bloodangel of Sealed Tenacity Set
Helm
Armor
Pants
Gloves

The armor set, crafted by James with Lugard's power, has the new ability and high performance. In order to use James' armor, you need the 'ancient hero's soul' that contains MU continent hero's will.
James crafted mastery armors for heroes that could save ancient heroes' souls. The first mastery armor crafted by James is called 'Bloodangel.'
Bloodangel of Sealed Mastery Set
'Sealed Bloodangel set' purchased from NPC priest James can be unsealed and used as the mastery Bloodangel set. Unsealed item is wearable and has the effect as a set item.
< Creation of Unsealed Items >
- Ancient Hero's Soul (Combination Material)
Combination Materials for Unsealing Mastery Bloodangel Set

▶ Ancient hero's soul is a key combination material for unsealing the sealed mastery set purchased from 'priest James.'
▶ In order to create the ancient hero's soul, you need the set item containing MU continent's soul as a combination material for the general combination by NPC chaos goblin.
Required Materials
Conditions
Refine
Results when success
of Vicious, of Hion
11Upgrade
Minimum Set
80% Success Rate

Ancient Hero's Soul
of Aegis, of Anubis
of Aruan, of Gaiwen
of Gaion, of Muren
of Broy, of Agnes
of Semeden, of Crono
of Vega, of Chamer
of Akhir, of Carthy
of Camill, of Inas
- Unseal the Sealed Mastery Item

▶ Purchase 'ancient hero's soul' with Ruud and use it on 'sealed mastery set item' to unseal it.
▶ From NPC Chaos Goblin's general combination, combine an 'item to be unsealed' and the 'ancient hero's soul' to unseal the item for 100% chance. The unsealed item has the set item effect.
Item to be unsealed
(Combination Material 1)
Unsealed Item
(Combination Material 2)
Refine
Results
'Sealed Mastery Set'
for each class
Ancient Hero's Soul
100% Success Rate
Sealed Mastery Item
Unseal
Mastery Bloodangel Set
- Composition of Mastery Bloodangel Set

▶ Characters can wear Mastery Bloodangel Set after the 3rd Class Change.

- Composition of Mastery Bloodangel Set
Bloodangel of Fury Knight Set
Classification
Knight Helm
Knight Armor
Knight Pants
Knight Boots
Image
Required Stats
Required STR
781
933
844
739
Required AGI
240
287
256
224
Defense
111
135
124
107
Set option
2Set
3Set
4Set
Skill Damage +50
STR Stat Option +50
Double Damage Chance +10%
Damage +100
Critical DMG Chance +15%
Excellent DMG Chance +15%
Ignore Enemy's Defense by 5%
All Stats +10
Basic Defense +20
Critical Damage +50
Excellent Damage +50
Bloodangel of Transcendence Wizard Set
Classification
Wizard Helm
Wizard Armor
Wizard Pants
Wizard Gloves
Image
Required Stats
Required STR
240
261
251
193
Required AGI
93
98
93
77
Defense
92
100
95
86
Set option
2Set
3Set
4Set
Skill Damage +50
Energy Stat Option +50
Double Damage Chance +10%
Magical Damage +100
Critical DMG Chance +15%
Excellent DMG Chance +15%
Ignore Enemy's Defense by 5%
All Stats +10
Basic Defense +20
Critical Damage +50
Excellent Damage +50
Bloodangel of Flurry Elf Set
Classification
Elf Helm
Elf Armor
Elf Pants
Elf Gloves
Image
Required Stats
Required STR
198
224
209
182
Required AGI
413
476
440
377
Defense
103
113
96
94
Set option
2Set
3Set
4Set
Skill Damage +50
Agility Stat Option +50
Double Damage Chance +10%
Damage +100
Critical DMG Chance +15%
Excellent DMG Chance +15%
Ignore Enemy's Defense by 5%
All Stats +10
Basic Defense +20
Critical Damage +50
Excellent Damage +50
Bloodangel Aqua Beam Equipment
Classification
Aqua Beam Helm
Aqua Beam Armor
Aqua Beam Pants
Aqua Beam Boots
Image
Required Stats
Required STR
198
219
209
188
Required AGI
77
88
83
46
Defense
88
102
84
84
Set option
2Set
3Set
4Set
Skill Damage +50
Energy Stat Option +50
Double Damage Chance +10%
Magical Damage +100
Critical DMG Chance +15%
Excellent DMG Chance +15%
Ignore Enemy's Defense by 5%
All Stats +10
Basic Defense +20
Critical Damage +50
Excellent Damage +50
Bloodangel of Extremity Magic Set
Classification
Magic Armor
Magic Pants
Magic Gloves
Magic Boots
Image
Required Stats
Required STR
770
734
623
671
Required AGI
324
314
266
282
Defense
133
119
102
107
Set option
2Set
3Set
4Set
Skill Damage +50
STR Stat Option +50
Double Damage Chance +10%
Damage +100
Critical DMG Chance +15%
Excellent DMG Chance +15%
Ignore Enemy's Defense by 5%
All Stats +10
Basic Defense +20
Critical Damage +50
Excellent Damage +50
Bloodangel of Conquest Lord Equipment
Classification
Lord Helm
Lord Armor
Lord Pants
Lord Gloves
Image
Required Stats
Required STR
329
361
340
282
Required AGI
98
109
104
88
Defense
90
108
95
85
Set option
2Set
3Set
4Set
Skill Damage +50
STR Stat Option +50
Double Damage Chance +10%
Damage +100
Critical DMG Chance +15%
Excellent DMG Chance +15%
Ignore Enemy's Defense by 5%
All Stats +10
Basic Defense +20
Critical Damage +50
Excellent Damage +50
Bloodangel of Destruction Fighter Set
Classification
Figher Helm
Figher Armor
Figher Pants
Figher Boots
Image
Required Stats
Required STR
392
445
419
366
Required AGI
350
387
366
324
Defense
88
114
103
92
Set option
2Set
3Set
4Set
Skill Damage +50
STR Stat Option +50
Double Damage Chance +10%
Damage +100
Critical DMG Chance +15%
Excellent DMG Chance +15%
Ignore Enemy's Defense by 5%
All Stats +10
Basic Defense +20
Critical Damage +50
Excellent Damage +50
Bloodangel of Tenacity Lancer Set
Classification
Lancer Helm
Lancer Armor
Lancer Pants
Lancer Gloves
Image
Required Stats
Required STR
340
361
350
298
Required AGI
340
361
350
298
Defense
82
93
84
91
Set option
2Set
3Set
4Set
Skill Damage +50
STR Stat Option +50
Double Damage Chance +10%
Damage +100
Critical DMG Chance +15%
Excellent DMG Chance +15%
Ignore Enemy's Defense by 5%
All Stats +10
Basic Defense +20
Critical Damage +50
Excellent Damage +50