Introduction (Characteristics of Grow Lancer)
- Third female character introduced after Elf and Summoner.
- A melee character that uses lance as its main weapon. Depending on the stats, Grow Lancers can have strong physical damage or elemental damage which makes them proficient in both hunting and PVP.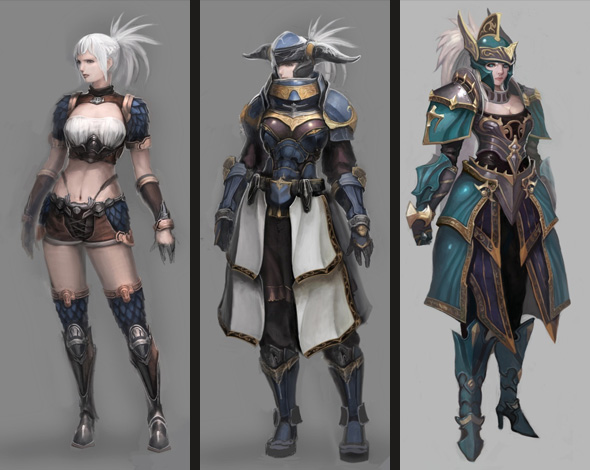 Background
- Last lancer of the Imperial Knights. Utilizes one handed lance and a shield to freely execute both defensive and offensive skills, and combines the magical power of Arca with martial arts to yield powerful damage. Specialized in melee combat, they have high defense and are more resistant to elemental attacks compared to other characters. Also, by having retaliation/rage damage which can be increased by strength/agility, they are able to amplify their damage to extreme levels.
Grow Lancer Information
< Default Settings >
Conditions to
create Grow Lancer
Must have a character above level 200 on the account
Starting Location
Lorencia
Base Stats
HP
MP
Str
Agi
Sta
Eng
Cmd
110
40
30
30
25
24
0
Class Name
2nd Class Name
3rd Class Name
Grow Lancer
Mirage Lancer
Armors
5 Types
Weapons
Lance
Shield
< Character Play Type Information >
Primary Stats
Characteristics
Str
A strength focused stat build will grant you higher damage while hunting
and allows you to deal powerful damage to your target during PvP as well.
Dex
An agility focused stat build will grant you the ability to hunt with fast attack speed
and allow you to suppress enemies in PvP with high elemental damage.
※ Special Damage
Retaliation DMG
A special damage granted when you allocate stat points into strength.
It increases skill damage.
Rage DMG
A special damage granted when you allocate stat points into agility.
It increases skill damage.
Grow Lancer Skills
< Skills (For Grow Lancers only) >
Category
Name
Image
Description
Offensive Skill
Spin Step
Pierces target and also
damages nearby enemies.
(Affected by rage power)
Harsh Strike
An offensive skill which
combines slash and pierce.
(Affected by vengeance power)
Magic Pin
An offensive skill
which pierces enemies
3 consecutive times
(Affected by rage power)
Breche
Damages nearby enemies.
(Up to 4 targets)
(Affected by vengeance power)
Shining Peak
An offensive skill
which casts a projectile
and strikes the enemy
in front of the caster.
(Affected by vengeance
and rage power)
Buff Skills
Obsidian
Skill which buffs the skill
damage of allies (party)
Buff stats increases
as strength increases.
Wrath
A buff skill
which increases your damage
at the cost of your defense.
Circle Shield
A PvP only skill
that has a chance to
decrease enemy's AG
Siege Skills
Clash
A skill which makes you
collide with your target
and pushes the enemy away.
< Skill Details >
Category
Name
Image
Level
Damage
Mana Cost
AG
Range
Weapon Skill
Lunge
0
0
9
0
2
Defense
0
0
30
0
0
Offensive Skill
Spin Step
83
100
12
0
2
Harsh Strike
74
100
12
0
3
Magic Pin
80
80
30
15
2
Breche
300
200
30
20
2
Shining Peak
220
70
70
25
3
Buff
Obsidian
74
0
50
50
0
Wrath
66
0
100
50
0
Circle Shield
220
0
100
50
0
Siege
Clash
0
50
50
50
6
Remove Stun
0
0
25
30
0
Swirl Mana
0
0
35
30
0
Remove Invisibility
0
0
40
30
0
Stun
0
0
70
50
2
Invisibility
0
0
80
60
0
Grow Lancer Item
< Common Item >
| Type | Item Name |
| --- | --- |
| Weapons | Kris, Short Sword, Rapier, Small Axe, Hand Axe |
| Shields | Round Shield, Horned Shield, Kite Shield, Buckler, Dragon Slayer Shield |
< Grow Lancer only Items (New Items) >
Item Name
Image
Description
Lapid Lance
While tracking down the secret document of Kundun, the Imperial Knights arrive at the Lost Tower and finally meet face to face with Balrog. As they took down Balrog, they succeeded in obtaining the secret document in which they find a mysterious symbol... Fascinated by the mystical symbol, warriors engrave this mysterious symbol to their weapons and these weapons blackened as they possessed the power of Kundun.
Conmocion Lance
Warriors of the MU continent go on an expedition to take down Black Lich and obtain the lightning power of Black Lich to their weapons. Countless warriors died in the process but in the end they took down Black Lich and obtained the lightning power to their weapons. But unable to control its power, Conmocion lance gets buried somewhere in Kantur.... While Arca of the Magic Kingdom struggled to find Conmocion Lance sealed away in Kantur, Grow Lancer, the resulting creature of countless experiments, and the only one who can manage the power of Conmocion Lance becomes the master of the lightning power.
Pluma Lance
Legendary Condor. The fluttering feathers of Condor are gentle but sharp and Warriors of MU continent wanted to make a powerful lance using this condor. Lance made from condor is both sharp and gentle at the same time and are able quickly suppress enemies by piercing deep into the heart of the enemy.
Vis Lance
The master craftsman of Arca Kingdom worked hard to make a lance which can pierce deep into the enemy without much effort. After repeated experiments, they decided to add a socket to enhance the power of the lance and allow it to pierce the enemy with ease.
Prickle Lance
Suppressing the mutants became impossible with old weapons due to the virus that has spread in Kantur. So they wanted to suppress these mutants by using the lance crafted by the Kantur and Arca's academic union. With added iron spikes, the prickle lance is effective in killing the enemy. This was the first lance produced jointly by Kantur and Arca and is used by Lancers to this very day.
Alacran Lance
A weapon used by Temple Knight Royal Guard of in Karutan. Scorpions in Karutan was the main material used to craft this weapon. With unique shape and material, it became one of lancer's favorite weapons to use. The split at the end of the lance was designed to cut the tendons of enemies.
Lapid Shield
While tracking down the secret document of Kundun, the Imperial Knights arrive at the Lost Tower and finally meet face to face with Balrog. As they took down Balrog, they succeeded in obtaining the secret document in which they find a mysterious symbol... Fascinated by the mystical symbol, warriors engrave this mysterious symbol to their weapons and these weapons blackened as they possessed the power of Kundun.
Pluma Shield
Legendary Condor. Condor feathers have been mixed in so it may not look as sturdy but it is impenetrable by any sword. All swords that have swung it's blade against this shield has shattered and only the light reflected by it's mere broken blade remained to be seen.
Robust Armor
A cloth armor worn by apprentice Lancers. To account for both fast movement and defense, a skirt was added to the leggings and this has become the trademark of Grow Lancers.
Gru Hill Armor
An armor known to be bestowed to 'Dorf' by 'Broy.' Light and soft like silk. It shows no weakness in defense as it boasts fast mobility but reflects sharp weapons at the same time.
Princie Armor
Princie Armor from master craftman 'Deruff' after an endless research. Made from melted metals, it boasts the best sturdiness all around. Symbol of Wing engraved to various parts of the armor adds swiftness to it.
Cloak of Limit
- Req. Lv: 180 < Grow Lancer >
- Armor: (15) + (Cloak Level*2)
- Increased Damage (%): 20 + (Cloak Level*2)
- Damage Absorbed (%): 20 + (Cloak Level*2)
Cloak of Transcendence
- Req. Lv: 400 < Mirage Lancer >
- Defense: (45) + (Cloak Level*2)
- Increased Damage: 39 + (Cloak Level*2)
- Damaged Absorbed: 39 + (Cloak Level*2)
< Grow Lancer Only Items Details >
Category
Item Name
Image
Drop Level
Excellent
Drop Level
Attack
Speed
Useable
Class
Weapons
Lapid Lance
15
40
40
Grow Lancer
Mirage lancer
Conmocion Lance
65
90
40
Pluma Lance
85
110
40
Vis Lance
22
47
30
Prickle Lance
67
92
30
Alacran Lance
87
112
30
Shield
Lapid Shield
13
38
-
Pluma Shield
70
95
-
Helmet
Robust Helmet
10
35
-
Gru Hill Helmet
50
75
-
Princie Helmet
70
95
-
Armor
Robust Armor
20
45
-
Gru Hill Armor
60
85
-
Princie Armor
80
105
-
Pants
Robust Pants
14
39
-
Gru Hill Pants
54
79
-
Princie Pants
74
99
-
Gloves
Robust Gloves
10
35
-
Gru Hill Gloves
40
65
-
Princie Gloves
60
85
-
Boots
Robust Boots
14
39
-
Gru Hill Boots
44
69
-
Princie Boots
64
89
-
< Cloaks >
Item Name
Image
Combination Material
Description
Cloak of Limit
[Cloak Image]
1st Tier Wing
Monarch's Crest
Jewel of Chaos
Excellent Equipment: Item over +4 option over +4
- Req. Lv: 180 + (Cloak Level*4)
- Armor: (15) + (Cloak Level*2)
[For +10~15 levels, defense increased by +4~9]
- Increased Damage (%): 20 + (Cloak Level*2)
- Damage Absorbed (%): 10 + (Cloak Level*2)
- Decreases HP by 1 on successful attack

Random Option 3
[HP Increase (50 + Cloak Level*5)]
[MP Increase (50 + Cloak Level*5)]
[3% chance to Ignore Enemy's Defense]
Cloak of Transcendence
[Cloak Image]
Condor's Feather
Condor's Flame
Jewel of Chaos
Jewel of Bless x10
Jewel of Soul x10
Jewel of Creation
Excellent Equipment: Item over +9 option over +4
- Req. Lv: 400
- Defense: (45) + (Cloak Level*2)
[For level 10~15, increases by +5~+10]
- Increased Damage: 39 + (Cloak Level*2)
- Damaged Absorbed: 39 + (Cloak Level*2)
- Decreases HP by 3 on successful attack

Random Option 3
[If you landed an attack on the enemy] 5% chance to deal true damage
[If enemy has landed an attack on you] 5% chance to return damage
[If enemy has landed an attack on you] 5% chance to fully recover your life
[If enemy has landed an attack on you] 5% chance to fully recover your mana
< Scrolls for learning Grow Lancer only skills >
Item Name
Image
Req. Level
Description
Spin Step
-
Req. Agility: 150
Skill which attacks the target and enemies nearby.
Harsh Strike
-
Req. Strength: 150
Skill which damages enemy 2 consecutive times
Magic Pin
-
Req. Str/Agi: 300/300
Skill which damages enemy 3 consecutive times
Breche
300
Req. Lv: 300
AoE skill which damages enemies near the caster. (Up to 4 targets)
Shining Peak
220
Req. Energy: 200
Req. Lv: 220
Damages enemies in a straight line in front of the caster
Obsidian
-
Req. Energy: 200
Skill which buffs the skill damage of allies (party)
Wrath
-
Req. Str/Agi: 200/200
A buff skill which increases your damage at the cost of your defense.
Circle Shield
220
Req. Lv: 220
A PvP only skill that has a chance to decrease enemy's AG
*Can be learnt by completing a quest
from NPC Marlon at level 220 or higher
Party Set Experience
- When you have Dark Wizard, Elf and Grow Lancer in one party
Stat Specialization
- Specialized Stats

▶ Specializes Damage and Defense
Stats
Base
Stats
1st Section
2nd Section
3rd Section
Min
Max
Min
Max
Min
Max
Damage Increased
Str
1~1500
1501~2000
2001~3000
0%~10%
10%~30%
30%~45%
Defense Increased
Agi
1~1500
1501~2000
2001~3000
0%~10%
10%~30%
30%~45%