New Character Slayer Appears!!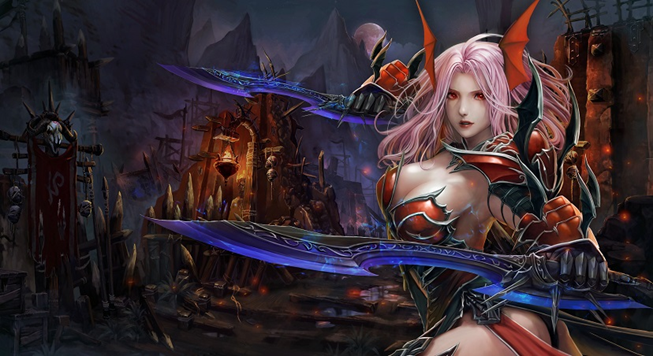 A demi-human bat character with the capability to engage in quick combat with her bat-like abilities.
Uses a short sword(dagger) and engages in battle by throwing her weapon or charging into
multiple enemies far away.
1. Slayer Background Story
Demi Human...
The slayer was originally born from Lorencia and was reincarnated through experiments in Kundun which turned her into a half-human half-bat
demi-human.1896 of Lugard's calendar, the demi-human experiment was discovered by Kundun's forces in Kanturu.
To increase the power of their forces, they use the experiment to create demi-humans.
The slayer is the first successful demi-human created from the experiment.
Relentless Assassin...
After being abducted by the Kundun forces,
the slayer was recreated to become an obedient killing machine with no emotions.
A revered advanced demi-human with the intellectual of a human and the ability to
track and detect using sonar like a bat.
With her advanced tracking, detecting, and killing abilities,
she was used as an assassin by Kundun to assassinate traitors and those who were planning to commit acts of treason.
While she was working as a follower of Kundun, her human-like emotions
were being awakened by a mysterious woman.
She later discovers that the mysterious woman she assassinated as a traitor was her mother. She escapes the grasp of Kundun after discovering everything that has happened to her.
Now, away from the hands of Kundun, she battles with the will to assassinate him.
2. Basic Info
Creation Requirements

Can be created by default

Starting Location

Lorencia

Basic Attributes

HP

MP

Strength

Dexterity

HP

Energy

130

10

28

30

15

10

Job Name

Default

2nd Advancement

3rd Advancement

Slayer

Royal Slayer

Master Slayer

Set Party

Slayer, Dark Knight, Summoner
3. Exclusive Muun for Slayer - Deathmodus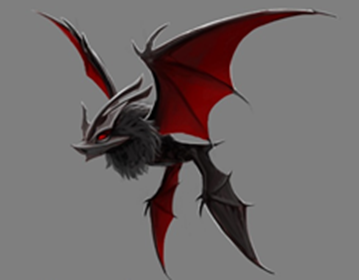 The slayer character starts with the Deathmodus Muun.
Begins with a special Muun Egg within the inventory.
Can acquire Lv. 1 Deathmodus by right-clicking the egg.
[Deathmodus Muun Info]
Grade

Basic Attributes

Periodically Activated Attributes

3rd Grade

When equipped with Muun
Attack Skill used

(Not applied in PVP)

Muun Attack Skill

Skill Speed
Doubled
(Activated for 30 days)
The Deathmodus Muun can advance and evolve through quests.
Evolution Stones are acquired when completing advancement quests.
[Advancement Quest Muun Rewards]
| | |
| --- | --- |
| Advancement Quests | Rewards |
| 1st Advancement Quest | Lv. 1 Deathmodus Muun |
| 2nd Advancement Quest | Lv. 1 Deathmodus Muun |
| 3rd Advancement Quest | Lv. 1 Deathmodus Muun |
| 4th Advancement Quest | Evolution Stone for Deathmodus Muun |
- Provided with a 30-day Deathmodus Muun.
4. Skill
The Slayer uses some skills of the Dark Knight and some exclusive skills.
Weapon Skill

Shared Skills

Spinning Attack

Uppercut

Pierce

Twisting Slash

Raging Wallop











Exclusive Skill

Sword Inertia

Bat Flock

Pierce Attack

Detection
Sword Inertia
Skill Name

Sword Inertia

Skill Requirements

Level: 30/Strength: 50/Dexterity: 100

Pentagram Main Attribute

Darkness

Skill Description

Moves left and right and throws
3 short swords that return like a boomerang.
Targets that touch the short sword receives damage once.

Skill Image
Bat Flock
Skill Name

Bat Flock

Skill Requirements

Level: 270/Strength: 100/Dexterity: 380

Pentagram Main Attribute

Darkness

Skill Description

Sends out a flock of bats when the skill is used.
Enemies touching the flock of bats receive damage two times and receive additional
DOT damage for a certain amount of time.

Skill Image
Pierce Attack
Skill Name

Pierce Attack

Skill Requirements

Strength: 300/Dexterity: 1100
Bat Flock skill required / 10 Points in Bat Flock Mastery Skill required

Pentagram Main Attribute

Darkness

Skill Description

Moves quickly toward enemy targets,

deals damage two times, and returns to her original position.

Enhances damage dealt to
targets affected by Bat Flock.
(Applies damage two more times.)

Skill Image
Detection
Skill Name

Detection

Skill Requirements

Level: 400/Dexterity: 800

Pentagram Main Attribute

None

Skill Description

Detects the location of life forms in the surrounding area.
Life forms are marked on the mini map for a certain duration.

Cooldown: 5 seconds

Skill Image
5. Slayer Item
Slayer's equipment and skill beads can be purchased from the
wandering merchant, Alex(115, 120) in Lorencia.
[Shared Items]
| | |
| --- | --- |
| Equipment | Item Name |
| Weapon | Kris, Short Sword, Katana, Sword of Assassin, Blade, Gladius, Falchion, Serpent Voulge, Double Blade |
| Wings | Small Wings of Satan, Wings of Satan, Wings of Dragon, Wings of Chaos, Wings of Angel and Devil, Wings of Conqueror |
[Slayer Exclusive Items]
<Weapon>
Item Name

Image

Min
ATK

Max
ATK

Attack
Speed

Strength

Dexterity

Flat Short Sword

1

6

20

21

20

Dakia Short Sword

50

60

40

86

160

Kukri Short Sword

80

90

40

152

392

Archangel Ultimate Short Sword

220

230

45

149

394
<Armor>
Slayer Red Wing Set

Helm

Armor

Pants

Gloves

Boots

Defense

4

9

6

2

3

Required Attributes

Dexterity: 32

Dexterity: 46

Dexterity: 41

Dexterity: 32

Dexterity: 34
Slayer Ancient Set

Helm

Armor

Pants

Gloves

Boots

Defense

10

16

13

8

9

Required Attributes

Dexterity: 102

Dexterity: 115

Dexterity: 105

Dexterity: 95

Dexterity: 95
Slayer Demonic Set

Helm

Armor

Pants

Gloves

Boots

Defense

21

35

25

10

18

Required Attributes

Strength: 74

Dexterity: 236

Strength: 74

Dexterity: 236

Strength: 70

Dexterity: 211

Strength: 67

Dexterity: 210

Strength: 69

Dexterity: 128
Night Wing Set

Helm

Armor

Pants

Gloves

Boots

Defense

58

70

63

40

52

Required Attributes

Strength: 110

Dexterity: 395

Strength: 134

Dexterity: 496

Strength: 122

Dexterity: 447

Strength: 105

Dexterity: 376

Strength: 109

Dexterity: 391
Bloodangel Slayer Set (Excellent)




Helm

Armor

Pants

Gloves

Boots

Defense

112

135

127

103

116

Required Attributes

Strength: 240

Dexterity: 781

Strength: 287

Dexterity: 933

Strength: 256

Dexterity: 844

Strength: 219

Dexterity: 707

Strength: 224

Dexterity: 739
Vesper's Night Wing Set




Helm

Armor

Pants

Gloves

Boots

Defense

-

114

102

75

88

Required Attributes

-

Strength: 156
Dexterity: 590

Strength: 145
Dexterity: 541

Strength: 128
Dexterity: 470

Strength: 131
Dexterity: 485

Set Options

2 Pieces - Increase Max HP by 100
3 Pieces - Increase Skillpower by 20
4 Pieces - Excellent DMG chance by 15%
Increase Crit DMG chance by 15%
Double DMG rate 10%
Molossos' Night Wing Set




Helm

Armor

Pants

Gloves

Boots

Defense

96

114

102

75

-

Required Attributes

Strength: 132
Dexterity: 488

Strength: 156
Dexterity: 590

Strength: 145
Dexterity: 541

Strength: 128
Dexterity: 470

-

Set Options

2 Pieces - Increase Defense by 50

3 Pieces - Increase Min ATK by 20

Increase Max ATK by 30

4 Pieces - Double DMG chance 5%

Ignore enemy Defense by 5%

Increase Excellent DMG chance by 15%
Bloodangel Slayer Set

 

Helm

Armor

Pants

Gloves

Boots

Defense

132

145

137

112

-

Required Attributes

Strength: 240
Dexterity: 781

Strength: 287
Dexterity: 933

Strength: 256
Dexterity: 844

Strength: 219
Dexterity: 707

-

Set Options

2 Pieces - Increase Skillpower by 25

Increase Strength by 50

3 Pieces - Double DMG chance 10%

Increase ATK by 50

4 Pieces - Crit DMG chance by 15%

Increase Excellent DMG chance by 15%

Ignore enemy Defense by 5%

Increase all stats by 10

Increase basic Defense by 20

Increase Crit DMG by 30

Increase Excellent DMG by 30
<Skill Bead>
Item Name

Image

Requirements

Sword Inertia
Bead

Level: 30

Strength: 50

Dexterity: 100

 

Bat Flock
Bead

Level: 270

Strength: 100

Dexterity: 380

 

Detection
Bead

Level: 300

Dexterity: 800

 

 

Pierce Attack
Bead

Strength: 300

Dexterity: 1100

Bat Flock
Skill required

Bat Flock
Mastery Skill
10 Points Required