Mastery Items
1. 5th Mastery Weapon Item Update
1) 5th Mastery Weapon Blue Eye Item Update
(1) Blue Eye Weapon Item Info
Mastery Weapon Category

Class

Item Name

Weapon Type

Skill

Dark Knight

Blue Eye Sword

One-Hand Sword

Spinning Attack

Dark Mage/Magic Gladiator

Blue Eye Staff

One-Hand Staff

-

Elf

Blue Eye Bow/Blue Eye Quiver

Bow/Quiver

Bow: Multi Arrows

Summoner

Blue Eye Stick

Stick

-

Summoner

Blue Eye Scroll

Scroll




Magic Gladiator

Blue Eye Magic Sword

One-Hand Sword

Power Slash

Dark Lord

Blue Eye Scepter

Scepter

Force Wave

Rage Fighter

Blue Eye Claw

Claw

Phoenix Shot

Mirage Lancer

Blue Eye Lance

Lance

Pierce

Rune Mage

Blue Eye Rune Mace

Mace



(2) New Blue Eye Upgrade Combination Materials - Blue Eye Anvil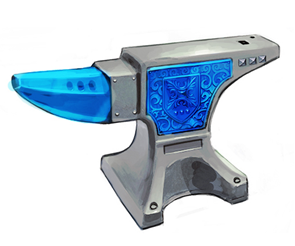 The new Blue Eye Anvil item is a new combination material used to upgrade Soul Weapons.

The 'Blue Eye Anvil' item can be purchased from the NPC, James in Elveland for 100,000 Ruuds.
2) Blue Eye Weapon Creation Settings
Blue Eye Weapons can be created by combining materials and Lv. +11 and 16 Option Soul Weapons.

When upgrading Blue Eye weapons, weapon type, luck options, and excellent options are maintained.
[Blue Eye Mastery Weapons - Combination Settings]
Upgrade Item

Mastery Combination Materials

Jewel Materials

Success Chance

Results

Lv. +11/16 Options

Soul

Excellent Weapon

Blue Eye Anvil

Bundle of Jewel of Bless x30

Bundle of Jewel of Soul x30

Jewel of Chaos x1

Jewel of Creation x1

100%

Lv. +0/0 Options

Blue Eye Excellent Weapon

[Fixed Luck and Excellent Options]
Mastery Weapons/Armors Detailed Info
1. 5th Mastery Excellent Weapon
1) Blade Master (Dark Knight)
(1) Blue Eye Sword
Required Level

Lv. 1000 or higher

Min/Max ATK

552 - 562

Attack Speed

40

Required Strength

1014

Required Dexterity

322

Skill

Spinning Attack

Excellent Option

"Increase Excellent DMG rate 10%"

"Increase Attack (Magic) Speed 7"

"Gain (HP/8) when killing monsters"

"Gain (Mana/8) when killing monsters"

"Increases Attack/Wizardry by 2.2for every 20 levels"

"Increases Attack 62"
2) Grand Master (Dark Mage/Wizard-Type Magic Gladiator)
(1)Blue Eye Staff
Required Level

Lv. 1000 or higher

Min/Max ATK

204 - 218

Attack Speed

30

Required Strength

322

Required Dexterity

103

Required Energy

-

Wizardry

124%

Excellent Option

"Increase Excellent DMG rate 10%"

"Increase Attack (Magic) Speed 7"

"Gain (HP/8) when killing monsters"

"Gain (Mana/8) when killing monsters"

"Increases Attack/Wizardry by 2.2for every 20 levels"

"Increases ATK 62"
3) High Elf (Elf)
(1) Blue Eye Bow
Required Level

Lv. 1000 or higher

Min/Max ATK

704 - 722

Attack Speed

45

Required Strength

224

Required Dexterity

1193

Skill

Multi Arrows

Excellent Option

"Increase Excellent DMG rate 10%"

"Increase Attack (Magic) Speed 7"

"Gain (HP/8) when killing monsters"

"Gain (Mana/8) when killing monsters"

"Increase Attack/Wizardry by 2.2for every 20 levels"

"Increases Attack 62"
(2) Blue Eye Quiver
Required Level

Lv. 1000 or higher

Min/Max ATK

507 - 531

Attack Speed

55

Required Strength

217

Required Dexterity

1179

Skill

-

Excellent Option

"Increase Excellent DMG rate 10%"

"Increase Attack (Magic) Speed 7"

"Gain (HP/8) when killing monsters"

"Gain (Mana/8) when killing monsters"

"Increase Attack/Wizardry by 2.2for every 20 levels"

"Increases Attack 62"

4) Dual Master (Magic Gladiator)
(1) Blue Eye Magic Sword
Required Level

Lv. 1000 or higher

Min/Max ATK

551 - 561

Attack Speed

45

Required Strength

751

Required Dexterity

448

Required Energy

156

Wizardry

76

Skill

Power Slash

Excellent Option

"Increase Excellent DMG rate 10%"

"Increase Attack (Magic) Speed 7"

"Gain (HP/8) when killing monsters"

"Gain (Mana/8) when killing monsters"

"Increase Attack/Wizardry by 2.2for every 20 levels"

"Increases Attack 62"
5) Lord Emperor (Dark Lord)
(1) Blue Eye Scepter
Required Level

Lv. 1000 or higher

Min/Max ATK

550 - 564

Attack Speed

40

Required Strength

716

Required Dexterity

164

Pet ATK

88%

Skill

Force Wave

Excellent Option

"Increase Excellent DMG rate 10%"

"Increase Attack (Magic) Speed 7"

"Gain (HP/8) when killing monsters"

"Gain (Mana/8) when killing monsters"

"Increase Attack/Wizardry by 2.2for every 20 levels"

"Increases Attack 62"
6) Dimension Master (Summoner)
(1) Blue Eye Stick
Required Level

Lv. 1000 or higher

Min/Max ATK

187 - 195

Attack Speed

30

Required Strength

294

Required Dexterity

108

Required Energy




Wizardry

126%

Excellent Option

"Increase Excellent DMG rate 10%"

"Increase Attack (Magic) Speed 7"

"Gain (HP/8) when killing monsters"

"Gain (Mana/8) when killing monsters"

"Increase Attack/Wizardry by 2.2for every 20 levels"

"Increases Attack 62"
(2) Blue Eye Scroll
Required Level

Lv. 1000 or higher

Min/Max ATK

-

Attack Speed

50

Required Strength

212

Required Dexterity

1138

Required Energy




Curse

166%

Excellent Option

"Increase Excellent DMG rate 10%"

"Increase Attack (Magic) Speed 7"

"Gain (HP/8) when killing monsters"

"Gain (Mana/8) when killing monsters"

"Increase Curse by 2.2for every 20 levels"

"Increases Attack 62"
7) Fist Master ( Rage Fighter )
(1) Blue Eye Claw
Required Level

Lv. 1000 or higher

Min/Max Attack

454 - 464

Attack Speed

35

Required Strength

606

Required Dexterity

197

Skill

Phoenix Shot

Excellent Option

"Increase Excellent DMG rate 10%"

"Increase Attack (Magic) Speed 7"

"Gain (HP/8) when killing monsters"

"Gain (Mana/8) when killing monsters"

"Increase Attack/Wizardry by 2.2for every 20 levels"

"Increases Attack 62"
8) Mirage Lancer (Glow Lancer)
(1) Blue Eye Lance
Required Level

Lv. 1000 or higher

Min/Max ATK

345 - 357

Attack Speed

40

Required Strength

461

Required Dexterity

315

Skill

Pierce

Excellent Option

"Increase Excellent DMG rate 10%"

"Increase Attack (Magic) Speed 7"

"Gain (HP/8) when killing monsters"

"Gain (Mana/8) when killing monsters"

"Increase Attack/Wizardry by 2.2for every 20 levels"

"Increases Attack 62"